We built our reputation over the last decade by performing thousands of services and refits on Yachts. Because of that, NPS Yachting is a premium partner when it comes to powering new-built or support refit projects on Mediterranean seas.
Our core mission: "We provide and maintain electric power on board".
We focus on After-Sales, Refits and Spare Parts. Our product portfolio increased with the distributorship of Zenoro Gensets and Xeamos emission reducing solutions.

We can provide the best in class maintenance and assistance for your yacht.
Being a John Deere engine expert and having the necessary experience makes us qualified to work with all major genset manufacturers: Kohler®, Onan®, Northern Lights®, Kilopak® and our own brand Zenoro®. We are proud to have a DEIF certification and can work on all components, starting from the engine all the way to the main switchboard.
Our service quality relies on two pillars:


Premium John Deere expertise thanks to a team trained to John Deere University's highest levels, including former John Deere Power System collaborators.
Our team has decades of experience and expertise in marine & yachting. We know you and we understand your expectations.
For the Yacht
We can support you throughout the yachting season:
We advise you for on-board stock and self-performed maintenance;
We provide standard & advanced maintenance;
We support Chief Engineers for advanced maintenance;
We perform complete generator set overhaul prior to major survey. Not only that, but we work in compliance with all main Shipyards in the Mediterranean area;
During charter, you can count on us for remote troubleshooting and swift intervention. We can help you with anything like a full engine swap or even genset swap.
For the Shipyard
We support you for major maintenance and refit:
We evaluate the engine's health and provide you with the most suitable solution;
We perform complete engine overhauls. From top to bottom;
We have a stock of engines compliant with Marine Classification Societies;
We advise new genset specification and supervise installation thanks to our in-house Zenoro marine generator.
For Yacht Management
We provide you with assistance for all your activities:
We provide our maintenance report for brokerage;
We evaluate engine health prior to yacht sales;
We support your charter season with our spare parts, diagnostic, and repair ability;
You take advantage of the official John Deere price, delivery time and worldwide warranty;
We support your new build and refit project with our Zenoro generator solutions and Xeamos Aftertreatment.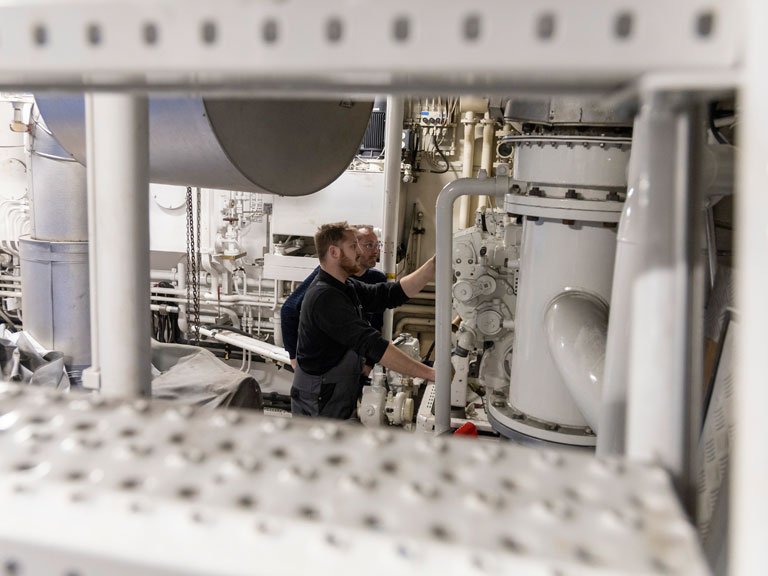 We provide an optimum on-board power supply thanks to our Zenoro generators.
Our entire range of gensets is dedicated to yachts. We use premium components to build best-in-class generators. Our line-up goes from 50kVA to 700kVA and will perfectly fit your yacht. Our engineering department also proposes custom-tailored solutions for you. NPS Yachting and Zenoro are familiar and compliant with the IMO Tier III regulations and all known marine societies.
We provide the most advanced emission control available for yachts.
Xeamos takes care of the environment and your comfort. Our SCR solutions are fully compliant with IMO Tier III regulations. Our Diesel Particle Filter removes the soot from the air and sea. You can enjoy your yacht and your water toys in a healthy environment and cruise absolutely worldwide. We also offer expertise in areas such as sound attenuation and soot filter and SCR technology, combining everything within a single system.
The biggest stock of marine spare parts available in the heart of yachting.
We have the biggest stock of marine spare parts available at our main office in Antibes. We ship worldwide and provide you with advice about what parts your genset needs. Sent us your request; we will not let you down.

Support or Service needed?
Contact our employees
We are more than happy to help. Contact us today via the contact form on the right or call
+33 (0)4 97 04 69 80

Report your malfunction here
Suffering from a malfunction?
You can reach our service department 24/7.
+33 (0)4 97 04 69 80